Ductless/Mini Split Systems
You may not be familiar with the concept of ductless and mini split systems. It's really not surprising considering they have only been on the scene here in the U.S. for less than two decades. But their popularity abroad has driven up local demand, as more and more people come to appreciate their benefits. Used primarily to create customized heating and cooling solutions, or to augment existing systems, it is easy to see why their popularity is on the rise.
Ductless and Mini Split Systems: How They Work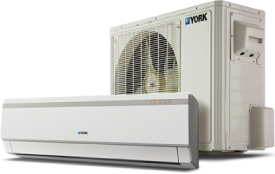 At their most basic level, ductless and mini splits are best for heating or cooling individual spaces to a desired temperature. Have you heard of "zonal heating" or "zonal cooling"? If so, these are the systems used to create those zonal solutions. Essentially, you have one unit per room, and each unit has its own thermostat or climate control options. They exist on their own, outside of the more traditional duct-based systems like heat pumps, furnaces, or packaged units. Hence the term: ductless.
They maximize efficiency by focusing solely on heating and cooling spaces individually, only when you are present. And they are also easily customizable. In addition to flexible installation options, each unit can be set to its own temperature, allowing you to keep individual rooms as warm or cool as you like.
Is a Ductless Option the Right Choice for Me?
Traditional central air systems, and their corresponding ductwork, are usually quite expensive to install in an existing home. However, their ductless counterparts can be installed quickly and easily. And they can even be used in conjunction with your traditional system! For example, it's a great way to offset the burden a new addition might put on your old system. By installing a ductless unit in the new construction, you can keep your current set up, and save thousands of dollars by not having to buy a bigger unit to run your whole home.
Want to Learn More?
Contact us today and we will be happy to answer all your questions about ductless and mini split systems, and why they may be the right choice for you.
Looking for a more traditional heating and cooling solution, and want to maximize your indoor space? A packaged product may be the right choice for you.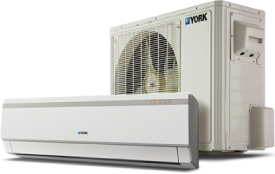 York® Affinity™ Series Mini-Split Systems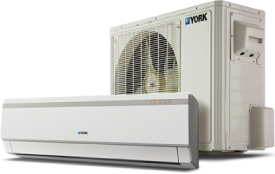 York® LX Series Mini-Split Systems
If you are looking for HVAC services then please call (912) 232-3800 or complete our Online Request Form