How Many Times a Year Shou The question is how often does HVAC maintenance need to be performed?ld HVAC Maintenance Be Performed?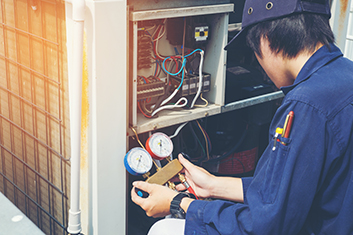 After people have decided on a quality HVAC company to provide their building with the heating and cooling it deserves, many people are surprised to hear that maintaining an HVAC unit is an ongoing process. While some people might frown at the idea of getting their unit serviced regularly, it is important to remember that a heating and cooling unit is just like any other machine and will require preventative maintenance on a regular basis.
Most technicians will mention that performing key maintenance once per year is acceptable, but twice a year is more beneficial. It is also important to pick the time of year that the service is performed. For example, it is important to schedule the service right before the unit is needed most to ensure that it is functioning at top capacity during times of high usage. The air conditioner should probably be serviced in the spring to ensure that it is ready for the warmer months when it will be required. The heater should be serviced just before the winter months so it can keep you warm and cozy as the temperature drops.
What Benefits Does Preventative Maintenance Provide?
Preventative maintenance will provide a number of key benefits for the HVAC unit. The system will be cleaned, the fluids will be changed and any damaged parts will be replaced. This will help to improve the efficiency of the equipment to lower utility bills as well as extend the life of an HVAC system to prevent unneeded expenses. It is always cheaper to prevent a problem from developing than to fix one that has already happened. Contact Westberry Heating and Air Conditioning today for more information or to schedule your spring preventative maintenance visit.
If you are looking for HVAC services then please call (912) 232-3800 or complete our Online Request Form