Beginner's Guide to Geothermal Heat Pumps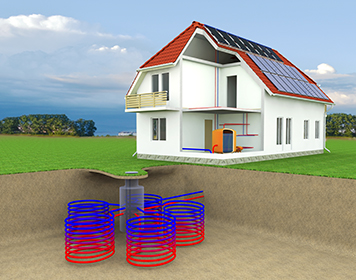 Geothermal heat pumps are becoming a number one choice for homeowners seeking affordable and effective heating and air conditioning. Unless you are an HVAC pro or have someone in your family who is, you likely have many questions about geothermal heat pumps and the benefits they offer. Consider this your quick beginner's guide to geothermal heat pumps, so you can make an informed decision as to whether this option is right for your home and budget.
Geothermal Heat Pumps: More than Just Heat
While you may think of heating when you consider geothermal heat pumps, the truth is they can provide both heating and cooling. Here's how they work to heat and cool by using heat transference from one space to another:
When you need cooling, the geothermal heat pump extracts the heat from your home and transfers it to the ground, where it cools.
When you need heating, the pump transfers the natural heat within the ground and brings it into your home.
You use a thermostat to regulate temperature in your home just like you would with a traditional HVAC.
A geothermal heat pump can even serve as a water heater.
Save Energy and Money with Geothermal Heat Pumps
Understanding how a geothermal heat pump works can help you get a better feel for whether it's right for your HVAC needs. But, let's face it, what you really want to know is how it will help you save money while keeping your home comfortable. Here's what you need to know:
Geothermal means low operating costs. Because it is incredibly energy efficient, you will lower your energy costs—some studies show you can drop them as much as 70% by switching to a geothermal heat pump from a traditional HVAC.
A geothermal heat pump is nice and quiet. No outdoor unit means you can run your cooling system without having to listen to the loud noise of HVAC ruining your summertime ambiance.
With a geothermal heat pump, you are making a greener choice. It doesn't require the burning of fuel to operate, which means it does not emit greenhouse gasses. It also reduces your electricity usage.
If you have more questions about geothermal heat pumps, our team at Westberry Heating and Air Conditioning is here to help. Get in touch with our team of experts today.
If you are looking for HVAC services then please call (912) 232-3800 or complete our Online Request Form